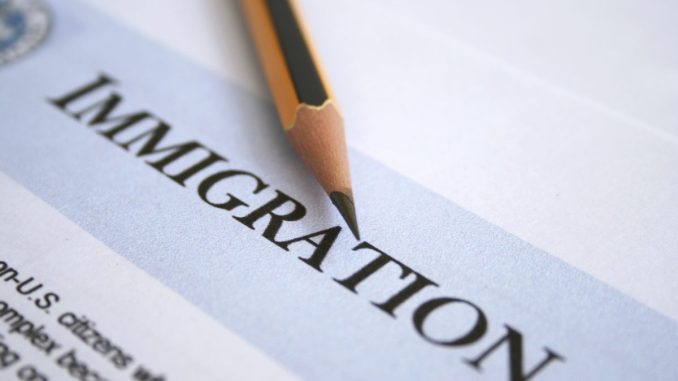 Airline Staffing Executive Charged with Immigration Fraud for Staff Applications
Assistant U.S. Attorney Nicholas W. Pilchak (619) 546-9709
SAN DIEGO – Eleno Quinteros, Jr., the former Vice President of Operations for two airline mechanic staffing companies, was arraigned today on a federal indictment charging him with making false statements in support of legal permanent resident petitions for 20 of the companies' mechanics.
The indictment alleges that Quinteros denied taking any payments from the mechanics, when in fact Quinteros had demanded and collected hundreds of thousands of dollars in fees from the employees in connection with their legal permanent resident applications. This practice is illegal.
According to the indictment, Quinteros regularly demanded and collected thousands of dollars in fees from employees, even though employers are prohibited by law from demanding payment for their fees—including attorneys' fees—in connection with the charged applications. A portion of the fees collected by Quinteros were paid to attorneys assisting with the applications. The rest were pocketed by Quinteros and his wife, the indictment alleges.
Quinteros was vice president of two different staffing companies, and part owner of one of them. The companies' staff performed heavy maintenance on aircraft at a variety of locations nationwide. Quinteros was responsible for recruiting Mexican airline mechanics to work in the United States for the companies, and for helping recruits to obtain work visas such as TN or H-2B visas.
According to the indictment, after Quinteros assisted recruits in obtaining work visas to come to the United States, he then arranged to help many of them pursue legal permanent residency—for at least several thousand dollars apiece. Quinteros directed many employees to pay the money to his wife's bank account in order to conceal its source. The indictment alleges that Quinteros has directed dozens of recruits wishing to become permanent residents to deposit or transfer hundreds of thousands of dollars to him and his wife in order to secure his assistance with the process.
Quinteros is charged in the indictment with twenty counts of making a false claim in support of an immigration application, in violation of Title 18, United States Code, Section 1546(a), and twenty counts of making a false statement to a federal agency, in violation of Title 18, United States Code, Section 1001.
"Lying to get a green card is a serious offense, particularly when the lie is an employer's false statement that he has not extracted prohibited fees from his employees," said Acting U.S. Attorney Alana W. Robinson. "This Office is committed to combatting immigration fraud and preventing those in a position to exploit lawful immigrants from doing so."
"As the lead agency in this four-and-a-half year investigation, the Diplomatic Security Service demonstrated its commitment to maintaining the integrity of U.S. travel documents. We will pursue those who fraudulently use temporary work visas, like the H2B, to manipulate and exploit foreign workers for personal gain," said Michael Bishop, special agent in charge of the DSS Los Angeles Field Office. "Diplomatic Security Service's strong relationship with our law enforcement partners as part of the Document Benefit Fraud Task Force continues to be essential in the pursuit of justice."
"Our message is simple — America's legal immigration system is not for sale," said Joseph Macias, special agent in charge for Homeland Security Investigations (HSI) Los Angeles. "In addition to posing significant security and safety vulnerabilities, visa fraud undermines the integrity of our legal immigration process and penalizes those who abide by the law. HSI will work closely with its law enforcement partners to ensure that those who would exploit our nation's immigration system for their own enrichment are brought to justice."
The charges and allegations contained in an indictment are merely accusations, and the defendant is considered innocent unless and until proven guilty.
DEFENDANT Case No. 17-cr-557-MMA
Eleno "Max" Quinteros, Jr. 45 years old Chula Vista, California
CHARGES
False Statement on an Immigration Document – 18 U.S.C. § 1546(a)
Maximum penalty: 10 years' imprisonment and $250,000 fine
False Statement – 18 U.S.C. § 1001
Maximum penalty: 5 years' imprisonment and $250,000 fine
AGENCIES
Department of State, Diplomatic Security Service
Internal Revenue Service, Criminal Investigations