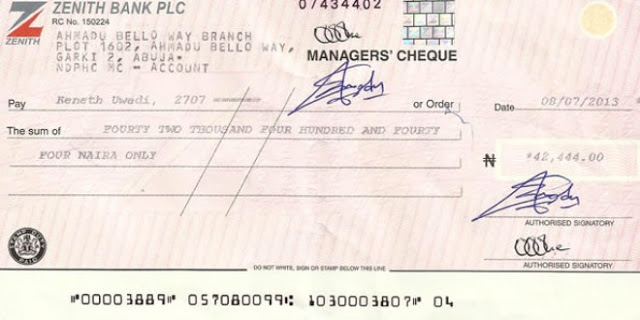 This is a fraudulent email from a theme "Zenith Bank Plc.". Do not try to contact him by phone or email, you risk being cheated or robbed of her well-known tricks.
from:

 Zenith Bank Plc. 

<zenitbankplc101@yahoo.ru>

reply-to:

 santaluciasaguros@in.com

to:

ana……@gmail.com


date:

Sun, Apr 5, 2015 at 3:44 PM

subject:

WINNING ALERT NOTIFICATION

Zenith Bank Plc.
Letter:
Zenith Bank Plc.
84 Ajose Street
Victoria Island
Lagos, Nigeria.
Mobil line +234-812…5218
Office +234-701….268
CHANGES OF BENEFICIARY
This is the second time we are notifying you about this said fund. We hereby send to you the information submitted by Mr. John T. Kehoe U.S.A of California, with an application to receive your Award Payment of $10,000.000.00.on your behalf from this bank.
Please as a matter of urgency, you are required to verify the following information and inform us if you are aware or know anything about this. This morning Mr. John T. Kehoe came to the office claiming that you have instructed him to come and receive the payment on your behalf with some representatives.
I have ask them to come back tomorrow as they did not provide any power of an attorney from you which will proof that you thoroughly send them, This was to enable me contact you to verify how genuine this people are to you.
Firstly. Did you instruct one Mr. John T. Kehoe of 122 Fitch Way, Sacramento, Ca. 95864. whose information's is below, to claim and receive the payment on your behalf?
Secondly. Did you sign any 'Deed of Assignment' in his favor thereby making him the current beneficiary with the following account details:
Account Name: Mr. John T. Kehoe Group Ltd,
A/C #USD114-25567-8,
Bank Name: Bank Of America
Swift Code: SCBL 11K111.
Finally, you are hereby advised to indicate to this honorable Bank with immediate effect, if you are the person that instructed Mr. John T. Kehoe to come for the claim of your fund worth of $10,000.000.00. NOTE: your full name and telephone number is needed for communications.
We wait for your call on +234-8120695218 or email at and urgent respond to this bank so that you will be giving an immediate
Response.
Yours sincerely,
Dr.James Ovia Glory.
Head of Operations.
Zenith Bank Plc