Midlothian Man Sentenced to Four Years in Prison for Conspiring to Distribute Anabolic Steroids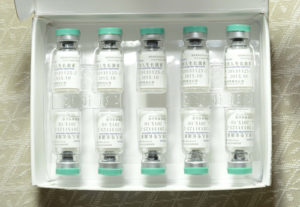 Anabolic steroids, according to the National Institute on Drug Abuse, are the common name for synthetic variants of the male sex hormone testosterone. While these drugs are legally prescribed to treat certain medical conditions, they are also abused by some athletes, body builders, and others in attempts to enhance performance.
Because of their potential for abuse and the possibility of them causing serious health problems if misused, anabolic steroids have also been classified as a Schedule III drug under the federal Controlled Substances Act, which regulates the manufacture, possession, distribution, and use of certain substances. Recently, after a joint FBI/U.S. Postal Inspection Service (USPIS) investigation, a 43-year-old Virginia man, who had no license to distribute anabolic steroids and no prescription for the drug, pled guilty in federal court to his role in a steroid distribution conspiracy. This past July, that individual—Carl Macchiarulo—was sentenced to serve four years in prison.
During the investigation, FBI and USPIS investigators were assisted by the Drug Enforcement Administration and U.S. Customs and Border Protection (CBP).
Between December 2012 and September 2014, Macchiarulo owned and operated an illegal anabolic steroid business known as CK Labs out of the Midlothian home he shared with his wife and children. The lab was located in a room that only he had access to.
Not licensed to run a lab, Macchiarulo was also not a medical professional nor a chemistry expert. But despite all that, he purchased—from suppliers in China, Europe, and elsewhere—various raw anabolic steroid powders and pills to manufacture them into finished products and sell them.
Using phony names, Macchiarulo usually e-mailed his orders to his overseas suppliers and sent payments through money transfer services, keeping individual payments low so he wouldn't have to show identification. And he had his purchases sent either to his residence or to post office boxes opened under fictitious business names.
To avoid detection by CBP officials, suppliers usually sent their products to Macchiarulo in decoy packaging—looking like food or beverage products, toys, etc.
Once Macchiarulo received the steroids, he manufactured the raw products into a finished product for distribution under the CK Labs name. He even had his own logo—a bulldog. To market his merchandise, he bought ads and promoted his fake company—and its very real product—on websites known for advertising anabolic steroids.
Customers from more than 30 states contacted Macchiarulo by e-mail to place orders; they followed up by mailing him cash or prepaid money cards. He then packaged his products and, using a fictitious name and return address, took his parcels to the local U.S. post office.
But his plan was not as foolproof as he thought: As a result of investigative tips, USPIS and CPB eventually seized several of Macchiarulo's incoming and outgoing packages and, through testing, identified their primary contents as anabolic steroids.
Investigators from the FBI Richmond Field Office and the USPIS, after conducting surveillances of Macchiarulo and undertaking other investigative measures, had enough to obtain a search warrant for his home in September 2014.
Once inside, they found a treasure trove of evidence—thousands of tablets, pills, and liquid ampules containing anabolic steroids; equipment used in the manufacture of finished anabolic steroid products; printed copies of e-mails containing order and payment information from Macchiarulo's customers; envelopes and packages used to send the steroids; and more than $100,000 in cash, some from the proceeds of the business.
Macchiarulo later surrendered to the government an additional $57,000 in criminal proceeds.
As a result of this multi-agency effort, law enforcement successfully shut down an operation that made a potentially dangerous substance available—without restriction—to anyone willing to pay for it.
From FBI
RICHMOND, VA—Carl E. Macchiarulo, 44, of Midlothian, Virginia, was sentenced today to 48 months in prison, followed by three years of supervised release for conspiring to distribute and possess with intent to distribute anabolic steroids. Macchiarulo was also fined $10,000.
Dana J. Boente, U.S. Attorney for the Eastern District of Virginia; Adam S. Lee, Special Agent in Charge of the FBI's Richmond Division; and David McGinnis, Acting Inspector in Charge of the Washington Division of the United States Postal Inspection Service (USPIS), made the announcement after sentencing by U.S. District Judge John A. Gibney, Jr.
Macchiarulo pleaded guilty on April 8, 2015. According to court documents, Macchiarulo operated an illegal steroid distribution business known as CK Labs out of his home in Midlothian, Virginia, between December 2012 and September 2014. In operating the business, Macchiarulo imported raw steroid powders and pills from China and other foreign countries, manufactured finished steroid products at his home, and distributed steroids to his customers through the mail. Macchiarulo advertised his business on various Internet sites known to serve as a marketplace for the distribution of anabolic steroids. During the course of the conspiracy, Macchiarulo imported at least 16 kg of raw steroid powders and thousands of steroid pills, and distributed steroid products to customers located in over 30 states, including to at least one amateur athlete. As part of the plea agreement, Macchiarulo agreed to forfeit $163,455 in U.S. currency that was seized by law enforcement as proceeds of the conspiracy.
This case was investigated by the FBI's Richmond Division and the USPIS. Assistant U.S. Attorneys Dominick S. Gerace and Erik S. Siebert prosecuted the case.
This content has been reproduced from its original source.