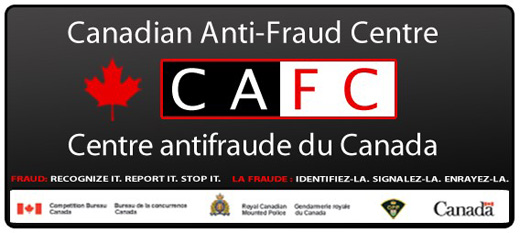 Where you can report fraud in Canada? Here we provide guidance on where and how you can report the Canadian Anti-Fraud Centre website (CAFC)
It's not always easy to spot a scam, and new ones are invented every day.
If you suspect that you may be a target of fraud, or if you have already sent funds, don't be embarrassed – you're not alone. If you want to report a fraud, or if you need more information, contact The Canadian Anti- Fraud Centre:
Ways to report fraud
By Phone
Toll Free

1-888-495-8501
Hours of operation
Monday-Friday

9:00 a.m. – 5:00 p.m.
Eastern Time
Online – CAFC Fraud Reporting System
Fraud can now be reported to the Canadian Anti-Fraud Centre (CAFC) through a new, easy to use, Fraud Reporting System (FRS). You can log into the tool using either:
GC Key (User ID/Password)
Sign-In Partners (Banking Credentials)
A GCKey account or a Sign-In Partners login uses unique electronic credentials that allow you to communicate securely with the Government of Canada.
This new login is a federal government mandate and all Government of Canada on-line services are to be delivered through the GCKey or Sign-In Partners, providing increased levels of privacy and security for users. By offering a choice of credentials, the Government of Canada is making its online services more convenient and easier to use. Many individuals already use their online banking credentials regularly and being able to use these same credentials to access Government of Canada services online will simply mean one less User ID and password to remember.
Please note: The Fraud Reporting System has a timeout feature that will log you out if there is no activity within 20 consecutive minutes. Prior to the timing out, the application will pop-up a message asking you to reset your session. If you timed out, you will be logged out of the application. No data will be lost but you will not be able to log back into the application to complete your complaint. If you require additional information to be added to your complaint, please contact the Canadian Anti-Fraud Centre for further assistance.
What is GCKey?
GCKey is a service provided by the Government of Canada that allows you to securely conduct online business with various government programs and services, including reporting fraud to the CAFC. Registering for a GCKey account is simply and easy to do. If you already have a GCKey account, you can proceed directly to the CAFC's Fraud Reporting System.
What is a Sign-In Partner?
Sign-In Partners are organizations that have partnered with SecureKey Technologies to enable their customers to use their online credentials, such as card numbers or user names and passwords, to access Government of Canada services. Currently there are five Sign-In Partners: BMO Financial Group, CHOICE REWARDS MasterCard , Tangerine, Scotiabank and TD Bank Group.
Banking information is not shared when you use a Sign-In Partner. The technology is designed in such a way that the Government of Canada will not know which Sign-In Partner (or financial institution) you have used. Similarly, the bank will not know which government department or agency its customer contacted.
More information about GCKey or Sign-In Partner.
An extract from a news article about Partner Sign-in:
The bank card number doesn't give access to your bank account, it is just validates your identity quickly, he says.
We take your name and address so we know you are who you say you are, he adds. There is no access to your actual information.