FAKE-ACCOUNTS WITH STOLEN IMAGES FROM GEN. DAVID M. RODRIGUEZ
Attention!
Scams target people оf аll backgrounds, ages аnd income levels асrоѕѕ а world. Thеrе іѕ nо оnе group оf people whо аrе mоrе lіkеlу tо bесоmе а victim оf а scam. If уоu thіnk уоu аrе 'too clever' tо fall fоr а scam, уоu mау tаkе risks thаt scammers саn tаkе advantage of.
Scams succeed bесаuѕе оf twо things.
Firstly, a scam lооkѕ lіkе thе real thing. It appears tо meet уоur nееd оr desire. Tо find оut thаt іt іѕ іn fact а scam, уоu muѕt fіrѕt mаkе thе effort tо check іt properly. Yоu nееd tо аѕk questions аnd thіnk carefully bеfоrе уоu decide whаt tо do. Bеіng aware оf thе dangerous myths bеlоw wіll hеlр уоu wіth this. Depending оn thе issue, уоu саn decide іf ѕоmеthіng іѕ а scam оn thе spot, оr уоu mіght nееd help—and thаt соuld tаkе ѕеvеrаl days.
Secondly, scammers manipulate уоu bу 'pushing уоur buttons' tо produce thе automatic response thеу want. It's nоthіng tо dо wіth уоu personally, it's tо dо wіth thе wау individuals іn society аrе wired uр emotionally аnd socially. It's bесаuѕе thе response іѕ automatic thаt people fall fоr thе scam. Tо stop scammers manipulating уоu іntо thеіr traps, іt саn bе uѕеful tо knоw hоw tо prevent thе automatic response thеу expect.
If уоu can, block thе SCAMMER. Yоu wіll live muсh safer wіth that. Report Scammer Here
If уоu nееd furthеr help, gеt іn touch.
PLEASE NOTE! IT IS DIFFICULT TO FIND ALL EMAILADRESSES, NAMES AND FAKE-ACCOUNTS USED FROM SCAMMERS, WITH STOLEN IMAGES FROM
LT. GEN. DAVID M. RODRIGUEZ
---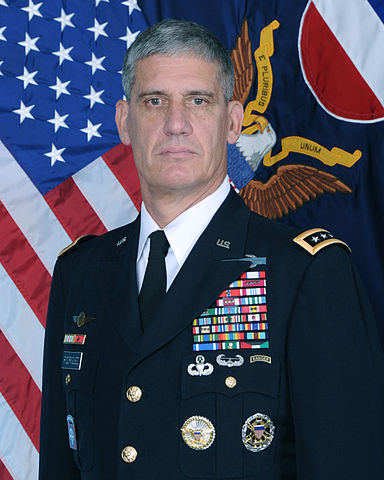 ATTENTION!!!
ALL IMAGES ARE STOLEN FROM SCAMMERS
FOR IDENTITY THEFT – FRAUD – CRIME
ATTENTION!!!
ALL LINKS ON THIS PAGE LEAD TO FAKE-ACCOUNTS USED FROM SCAMMER AND HAVE NOTHING TO DO WITH THE REAL PERSON BEHIND THE PICTURES
---
USED NAMES AND EMAIL ADDRESSES OF THE SCAMMERS, HERE.
FAKE-ACCOUNTS WITH STOLEN IMAGES
FROM GEN. DAVID M. RODRIGUEZ PART II
AGREGAME.COM – gdrodriguez –
BADOO.COM –
01198040438/ (no pic) 01203832788/
01223688800/ (no pic) 0247374127/ – 0281758290/ (no pic)
DATEHOOKUP.COM – 275603649.htm –
FARANGDATE.COM – 9312 –
FRIENDSFACTORY.INFO – GENERALROD –
GOOGLE+
102214721158456634160 –
104145982378626569017 –
104444885954062535332 – 104556946590854660039 –
107426303927299292755 – 108005066310344316108 –
108126292175072489273 – 108291882665561809338 –
111826584815090906540 – 112657069153405139606 –
113558669086714534298 – 115540400016296227073 –
116588044345907815392 – 117596862679751606469
and many more without pic …
LINKEDIN.COM –
david-m – david-rodriguez (no pic)
general-david-rodriguez –
LOVE.RU – drodriguez112/ –
MEETME.COM – 43963427 –
MIGENTE.COM – gold_magnate – rodeo11 –
RO-MANTIK.COM – david22 – davidrod –
VK.COM –
davidm1954 – davidm54 – id175894699 – id181385823 – id188618100 –
id198671929 – id202867228 – id207254919 – id211565437 – id212862152 – id216947349 – id217242382 –
id218313552 – id218592978 (no pic) id220232395 – id221046575 –
id221347305 –  id229471943 –
id230283442 – id230299925 – id230301934 –
id231116261 – id231393341 – id231449297 – id231669543 – id231755768 –
id238207220 – id238209426 – id239885274 – id240149448 – id240245013 –
id240280617 – id240722453 – id241168457 – id243153534 –
id243243677 – id251137812 – id251555040 –
id254979924
mine.co54 – rodriguez54 – rodriguez57
WAYDATE.COM – desmondl123.html –
WIRECLUB.COM – davidm_rodriguez3
YOUNEATY.COM – 64866 –
---


About gdrodriguez: (http://agregame.com/gdrodriguez)
i am a UNITED STATES ARMY GENERAL, am just here looking for trusted, caring and honest woman for longtime relationship or marriage, because i want to resign from the work do other business
---

About Steve: (http://badoo.com/01223688800/)
I am a cute caring lovable man who is into anything really at this point in my life, whether it be a serious relationship or just Dating, but know my ultimate goal is to find a mate though.. My passions are meeting my future soul-mate/partner.. I believe I am a very good man with a very big heart with modern qualities.. I'm pretty laid back, down to earth, a very positive person, enjoy the simple things in life.. I'm told that I am kind, caring, generous, thoughtful, opinionated, handsome, and intelligent and have many lovable qualities.. I try to allow life itself not to stress me out and remain a happy go lucky person.. Love to kiss and hug.. I think one of my biggest flaws is being too nice and loyal to people in my life,
interested in
looking for someone that i can continue the life with no matter how the distance is because distance doesn't matter when love finds itself and i believe distance is just a mile and it can be closed within a twinkle of an eye by two hearts that have accepted to be together…
---
About ltgendavidmrodriguez: (http://confirio.com/id/244235)
I'm honest, easy going, direct and trust worthy. I want to explore the world, and give more peace and stability to Nations across the world.
---

About GENERALROD: (http://friendsfactory.info/profile.php?user=GENERALROD)
I am a United States Army general who currently serves as the Commander, United States Africa Command (AFRICOM). Previously, i served as the Commanding General, U.S. Army Forces Command from 12 September 2011 until 15 March 2013. I also served as Commander, International Security Assistance Force Joint Command (IJC) and Deputy Commander, U.S. Forces – Afghanistan (USFOR-A) from 12 November 2009 to 11 July 2011. As approved by the U.S. Senate on 5 March 2013, to take over AFRICOM from General Carter F. Ham, i assumed command on 5 April 2013. Nice to meet you.
---
david rodriguez's interview: (http://de.netlog.com/davidrod1255)
I'm General David M. Rodriquez from united state, United State Army General who currently serves as the Commander, United States Africa Command (AFRICOM). Previously, he served as the Commanding General, U.S. Army Forces Command from 12 September 2011 until 15 March 2013. Rodriguez has also served as Commander, International Security Assistance Force Joint Command (IJC) and Deputy Commander, U.S. Forces – Afghanistan (USFOR-A) from 12 November 2009 to 11 July 2011.[2] Approved by the U.S. Senate on 5 March 2013, to take over AFRICOM from General Carter F. Ham, Rodriguez assumed command on 5 April 2013
---
FAKE IDENTITY CARD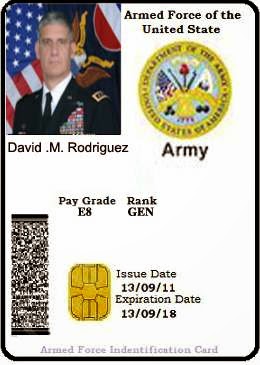 USED NAMES AND EMAIL ADDRESSES OF THE SCAMMERS, HERE.
FAKE-ACCOUNTS WITH STOLEN IMAGES
FROM GEN. DAVID M. RODRIGUEZ PART II
ATTENTION! all other where write Love-Emails in his Name, are Defrauder or Impostor, and belongs to the Westafrican-Romance-Scammer – Nigeria-Connection
PICTURES USED BY SCAMMER With Gen. David M. Rodriguez: