FOR IMMEDIATE RELEASE
Friday, May 19, 2023
Readout of Assistant Attorney General Kenneth A. Polite, Jr.'s Trip to Kenya
On May 15 to 18, Assistant Attorney General (AAG) Kenneth A. Polite, Jr. of the Justice Department's Criminal Division traveled to Nairobi, Kenya, to deliver remarks at the first colloquium bringing together 20 African countries to collaborate on pretrial detention issues. The colloquium was sponsored by the Criminal Division's Office of Overseas Prosecutorial Development Assistance and Training (OPDAT), the U.S. Department of State's Bureau of Counterterrorism and Bureau of International Narcotics and Law Enforcement, and several other partners. He met with OPDAT's Resident Legal Advisors in the region, numerous foreign law enforcement officials, and U.S. Embassy Nairobi staff to build closer partnerships and further the department's mission to advance the rule of law and combat transnational crime.
AAG Polite delivers remarks at the Africa Regional Colloquium.
On Tuesday, AAG Polite had separate bilateral meetings with the Honorable Chief Justice of the Kenya Supreme Court Martha Koome and Kenya Director of Public Prosecutions Noordin Haji. He also met with Idrissa Nibilma Bado, Chief Judge of the Anti-Terrorism Court of Burkina Faso; Justice Peter Kekemeke, High Court Judge and Chairman of the Remand Decongestion Committee of Federal Republic of Nigeria; Hafid Bahaddou, Chief, Division de la coopération judiciaire internationale, Ministère public of Morocco; and Augustin Yao Kouame, Senior Judge and Director of Civil and Criminal Affairs for the Ministry of Justice of Cote d'Ivoire. AAG Polite thanked foreign officials for their ongoing cooperation and affirmed continued support in extradition matters and mutual legal assistance requests.
AAG Polite stands with participants and other speakers at the Africa Regional Colloquium in Nairobi.
On Wednesday, he met with U.S. Ambassador to Kenya Meg Whitman, Deputy Chief of Mission Mark Dillard, and embassy personnel from OPDAT, the FBI, Homeland Security Investigations, and U.S. Customs and Border Protection. He also had brief meetings with Senior State Attorney Judith Mwakyusa of Tanzania; Justice Afia Serwah Asare-Botwe of Ghana Court of Appeals; Dr. Moustapha Fall, Technical Advisor to the Minister of Justice of Senegal, as well as Julien Nguan Ndour, Director of Human Rights at the Ministry of Justice of Senegal; and Ibrahim Boukary Sally, President, Judgement Chamber for cases of Terrorism and Transnational Crime of Niger.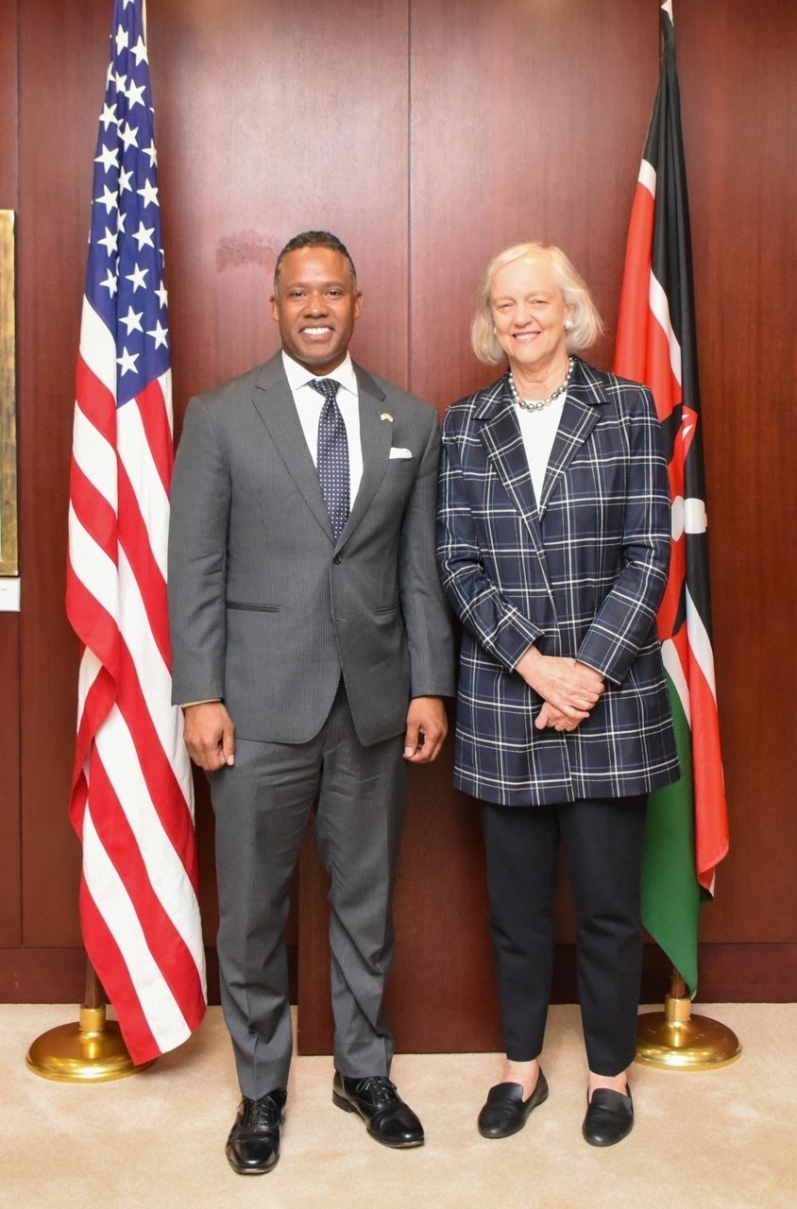 AAG Polite and U.S. Ambassador to Kenya Meg Whitman.
In his meetings, AAG Polite discussed enhancing cooperation in the fight against transnational crime, including narcotics trafficking, financial fraud schemes, corruption, child sexual exploitation, and counterterrorism.
"Today, more than ever before, the security of each state increasingly depends on the security of all states – and we in the justice sector must therefore supplement national vigilance with international cooperation," said AAG Polite. "I am committed to furthering our bilateral law enforcement relationships in Africa."
On Thursday, AAG Polite visited Nairobi National Park with DEA personnel and met members of Kenyan law enforcement. He learned about environmental sustainability and wildlife trafficking and conservation. He concluded his visit by attending a working lunch organized by Kenyan Director of Public Prosecution Haji, along with Directors of Public Prosecution from Botswana, Democratic Republic of Congo, Malawi, and Uganda.
AAG Polite at Nairobi National Park with Criminal Division and DEA personnel and Kenyan law enforcement.
AAG Polite is committed to enhancing cooperation between the United States and our judicial and law enforcement counterparts in the region.
Component(s): Criminal DivisionCriminal – Office of Overseas Prosecutorial Development, Assistance & TrainingDrug Enforcement Administration (DEA)Federal Bureau of Investigation (FBI)Press Release Number: 23-582
Updated May 19, 2023Original Article