This is a fraudulent email from a theme "PayPal Account Suspended". Do not try to contact him by phone or email, you risk being cheated or robbed of her well-known tricks.
from:

PayPal Support

<paypal@support.com>

to:

ana……7@gmail.com


date:

Tue, Apr 14, 2015 at 12:39 AM

subject:

Your account has been suspended
Now check the account informations that belongs to you!

Dear customer,

Thank you for signing up for PayPal. But we face a problem with a recent verification of the real owner of this account. And it may be caused by some incorrect informations that you gave us in the last update. And for that reason, you must follow the following steps:

1. Click on the Verify Your Account button below.

2. Verify your Informations to activate your account.

Verify Your Account

[one-third-first]Enter email and password[/one-third-first][one-third]Enter your personal informations[/one-third][one-third]Add or confirm a Credit Card[/one-third]

Account    Help   Fees   Security   Apps   Shop

[one-half-first]New customer
priority support[/one-half-first][one-half]You're new to PayPal and we're here to help if you have any problems. Click here to get your Customer Service passcode, then call

1-877-569-1116[/one-half]

This email was sent to Your Email, because your email preferences are set to receive "News and Promotions". Click here to Unsubscribe.

To manage your communication preferences, please visit our preference centre.

Please do not reply to this email. We are unable to respond to inquiries sent to this address. For immediate answers to your questions, visit our Help Centre by clicking "Help" located on any PayPal page or email.

PayPal is committed to your privacy, learn more about our privacy policy.

Copyright © 2014 PayPal Inc, 500 King St. W, Toronto, ON M5V 1L9. All rights reserved.
Fake PayPal: PAYPAL PAYMENT REVERSAL EMAIL: SCAM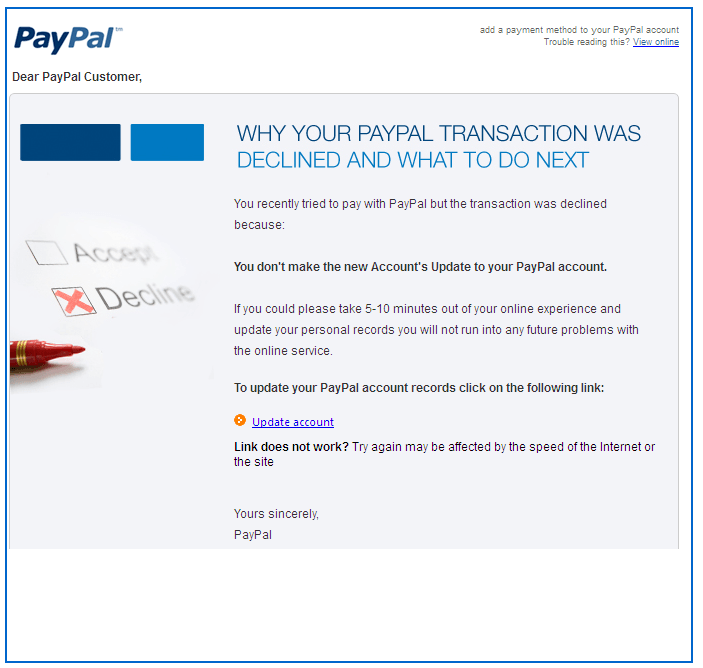 It's a scam. If it's like what I received the other day, it's also an extraordinarily well constructed scam, down to a perfect clone of the PayPal home page and a domain that's really close to the paypal.com domain. This isn't some kid putting the scam together in his basement either, it's very well done.
But you wouldn't have to worry about it if you follow my basic rule of thumb: Never click on a link in an email message.